Timing Belts
Fenner Synchronous Belt Drives offer a comprehensive and integrated package of Belts of the highest quality and power capacity along with a versatile selection of standard Taper Lock Pulleys covering a variety of applications in the area of power transmission.
Fenner Synchronous belt range comprises Timing, High Torque Drive (HTD) and Fenner Extra Torque (FXT) belts covering drives upto 50 kW, 200 kW & 500 kW respectively.
The original trapezoidal cross section of timing belt has under gone considerable development culminating first in the introduction of High Torque Drive belts and then Torque Drive Plus belts with their associated pulleys. The HTD & FXT belts have curvilinear tooth profile which enables the strength of high tensile load bearing cords to be fully utilised. The shape of teeth gives more uniform stress distribution and allows higher overall loading. The belt teeth are precisely formed and accurately spaced to ensure correct engagement with teeth on the pulleys. Tooth root lines lie substantially on pitch line, thus circular pitch is not altered while flexing.
Accurately spaced polychloroprene teeth ensure smooth engagement with the pulley grooves. HTD & FXT Belt Drives do not depend on the thickness to develop high tensile strength. Being thin, heat build up is minimised without sacrificing inherent power transmission capacity. Synchronous Belt Drives work over a range of shaft speeds maintaining a high transmission efficiency and constant angular velocity. Fenner Synchronous Drives extend these advantages to higher powers and torques, making possible designing of more compact drives.
Fenner Synchronous Belt Drives use Fenner Timing Pulleys provided with the unique Taper Lock System used widely the world over for fixing pulleys on shafts.
Features
Positive non-slip drive maintains exact speed ratio without creep or slip.
Minimum heat build up results in cooler operations.
Do not stretch in use and are corrosion free, clean operation makes them ideal for contamination sensitive applications.
Moderate oil and heat resistant
Can withstand temperatures between - 20° C to 100° C.
Advantages
No maintenance, no lubrication is required. No re-tensioning. No need for adjustable motor bases. Reduced operating cost.
Wide range of applications from FHP to 500 kW, speeds up to 20,000 rpm, speed ratio up to 20:1.
Compact design with lesser weight. High flexibility allows the use of very small pulleys.
Positioning accuracy at constant driven speeds with efficiencies up to 99%.
Smooth operation and constant angular velocity with no jerk or vibration.
Reduced belt tension. Longer drive bearing life.
Optimized tooth design providing optimum meshing efficiency, energy loss reduced to an absolute minimum.
Reduced noise levels.
Construction
Backing:
A durable flexible backing made from polychloroprene that encases the load carrying tensile member. It protects the cords from oil, moisture also from frictional wear if power is transmitted from back of belt.
Tensile member:
Fibreglass cord tensile member for high tensile strength exhibits excellent flex life and high resistance to elongation. Teeth:
Teeth moulded with backing made of shear resistant resistant polychloroprene compound. Precisely formed and accurately spaced to assure correct engagement with the pulley grooves.
Tooth Facing:
Tough, wear resistant nylon fabric protects the tooth and gives low co-efficient of friction for smooth pulley interaction.
Range
Timing Belts: Available in standard pitch MXL, XL. L, H, XH & XXH.
High Torque Drive Belts (HTD): Available in standard pitch 3M, 5M, 8M, 14M & 20M.
Fenner Extra Torque Belts (TDP): Available in standard pitch 8 M FXT & 14 M FXT.
Other ranges include : • T2.5, T5, T10 & T20 series belts. • Double sided Timing and HTD Belts.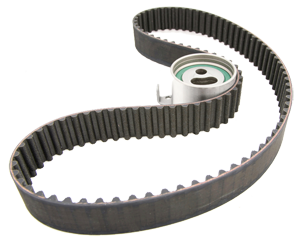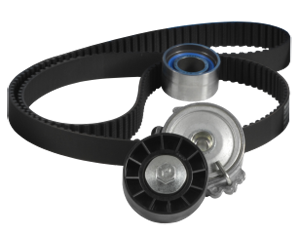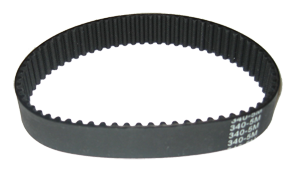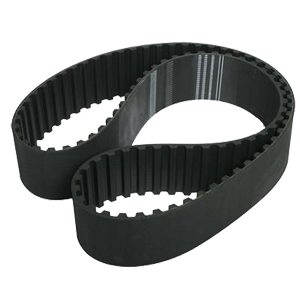 Single Belt
Eliminates the necessity to use multiple / matched set Belts.
Higher Speed
Can be used at higher speed more than 40 m/sec.
Longer Life
Gives lesser wear and longer life to the pulleys due to lesser static tension and belt slippage.
Low Downtime & Replacement Cost
Reduces downtime and also belt replacement cost.
Serpentine Drives:
Multi-Pull is a flexible belt and can be reverse bent round a pulley. The outside of the belt can be used tc drive. This enables Multi-Pull to be used on Multi-Pulley or Serpentine Drives.